Breakfast & Omelettes
Meat
Vegetarian
This gluten free banana bread combines a mix of brown rice/tapioca flour,...
This baked chicken thighs recipe includes a blend of rosemary, oregano and...
  For this spicy tofu recipe, I am using a hot black bean sauce that can be...
Dominican bites
Soups and stews
Stir fry
This is a simple, Dominican-style ginger tea with cinnamon recipe that can...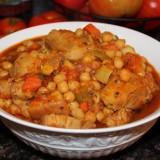 Chickpeas with pork belly make a delicious combination, since chickpeas can...
Eggplant is one of my favorite vegetables. When I was growing up in the...